Lutein 20 mg & Zeaxanthin 2.5 mg
Take care of your vision with Viva's Lutein & Zeaxanthin today! Carefully selected lutein and zeaxanthin manufactured with the highest technology gives you 20mg of lutein and 2.5mg of zeaxanthin of upmost potency and maximum bioavailability. Chosen to reduce the risk of developing cataracts, age-related macular degeneration, and to improve macular pigment optimal density.
Both lutein and zeaxanthin are sensitive to light, heat, and moisture, which is why Viva uses advanced manufacturing technology to ensure that these nutrients do not degrade during the manufacturing process.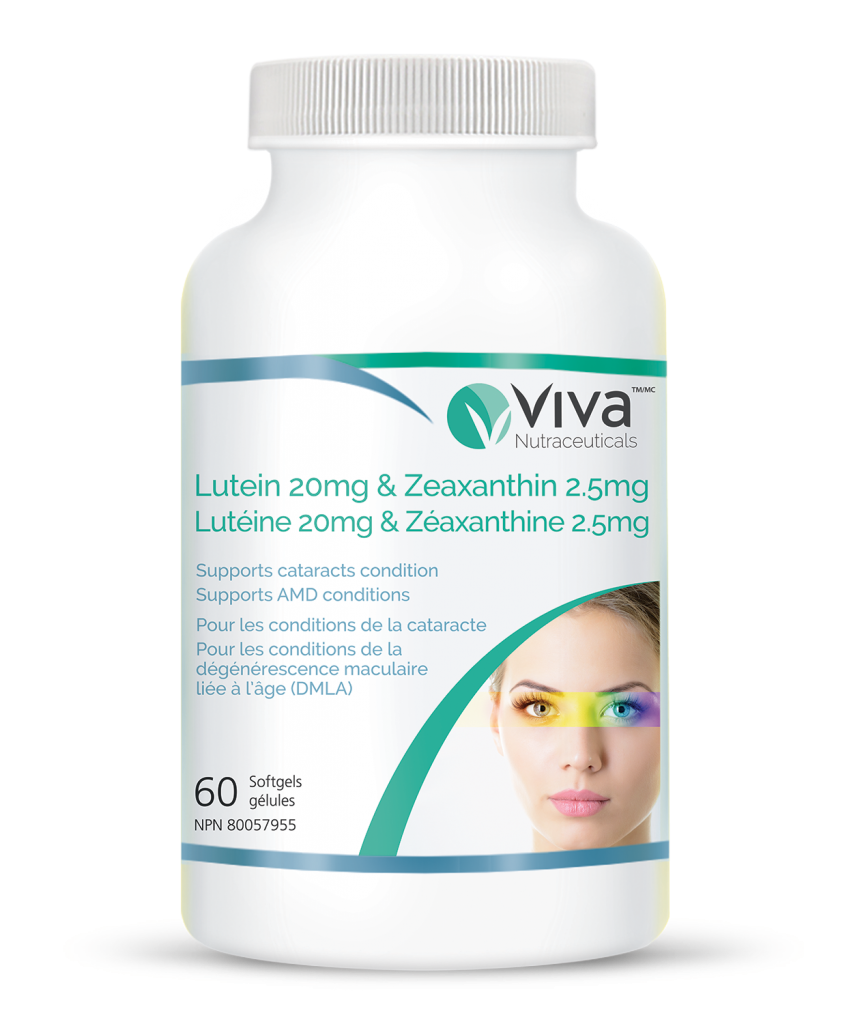 • Antioxidant for the maintenance of good health, especially eye health.

• Helps to maintain eyesight and eye health in conditions (associated with sunlight damage), such as cataracts and age-related macular degeneration.

• Helps to reduce the risk of developing cataracts.

• Helps to improve macular pigment optical density.
| Ingredient: | Amount: |
| --- | --- |
| Lutein (Tageteserecta, Herb Flowering Oleoresin) | 20.0 mg |
| Zeaxanthin (Tageteserecta Flower, Herb Flowering Oleoresin)/td> | 2.5 mg |
Adults: Take 1 softgel daily
Keep out of reach of children. If symptoms worsen consult a health care practitioner. Do not use if you are allergic to plants of the Asteraceae/Compositae/Daisy family. Store in a cool, dry place and avoid direct sunlight. Do not use if safety seal is broken.

The information provided on this site is not intended as medical advice. Please consult with a physician or other healthcare professional regarding any medical or health related diagnosis or treatment options. The statements on this website have not been evaluated by the Food and Drug Administration. The products are not intended to diagnose, treat, cure, or prevent any disease.