Highly effective antioxidants block melanin formation for whiter skin and anti-aging effects. lmmunotonia is a great source for lowering blood pressure, maintaining your cardiovascular health, and enhancing your immunity.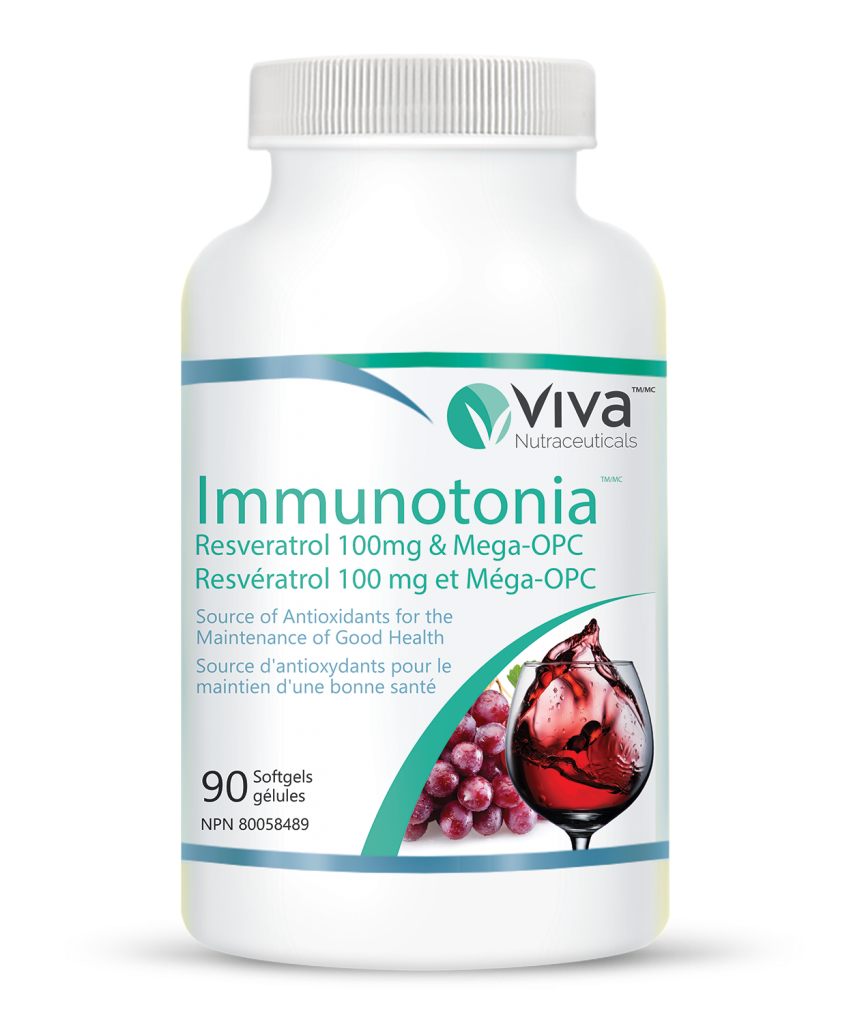 • Source of Antioxidants for the Maintenance of Good Health.
• Supports Cardiovascular Health.
• Resveratrol and Grapeseed are Two Naturally Sourced Active ingredients with Most Powerful Antiaging and Heart-healthy Formula.
| Ingredient: | Amount: |
| --- | --- |
| Resveratrol ((E)-5-(p-Hydroxystyryl)resorcinol, Reynoutria japonica, Root) | 100 mg |
| Grape Seed Extract (15:1, Vitis vinifera, Seed) (QCE 1500mg, 85% Oligomeric proanthocyanidins) | 100 mg |
| Citrus Bioflavonoids (Citrus aurantium, Fruit) | 50 mg |
| Green Tea Extract (18:1, Camellia sinensis, Leaf) (QCE 1800mg, 50% Epigallocatechin 3-gallate, 81% Catechins, 0.6% Caffeine) | 100 mg |
Adults: Take 1 softgel daily with meal
If you are taking prescription medication, consult a healthcare practitioner prior to use as citrus bioflavonoids and resveratrol may alter the effectiveness of these medications. If you are pregnant or breastfeeding, consult a health care practitioner prior to use. Consult a health care practitioner prior to use if you have a liver disorder or develop symptoms of liver trouble (such as abdominal pain, dark urine or jaundice). Consult a health care practitioner prior to use if you have an iron deficiency.

The information provided on this site is not intended as medical advice. Please consult with a physician or other healthcare professional regarding any medical or health related diagnosis or treatment options. The statements on this website have not been evaluated by the Food and Drug Administration. The products are not intended to diagnose, treat, cure, or prevent any disease.