• Supports Prostate Health

• Reduces Frequent Urination

• Helps Relieve Moderate Benign Prostatic Hyperplasia

• High Bioavailability
Take ProsTac for your prostate health. The prostate is every man's crucial organ, and complications may arise from a multitude of factors. It is estimated that in the year 2015, 24% of all new cancer cases will be prostate cancer, and 10% of deaths resulting or arising out of cancer are from prostate cancer. ProsTac's herbal and mineral blend has been used traditionally for many years to support your prostate. Each softgel provides bioavailable pumpkin seed oil, saw palmetto, lycopene, dandelion extract, nettle, Uva Ursi, and Zinc. Men's Health, in a bottle.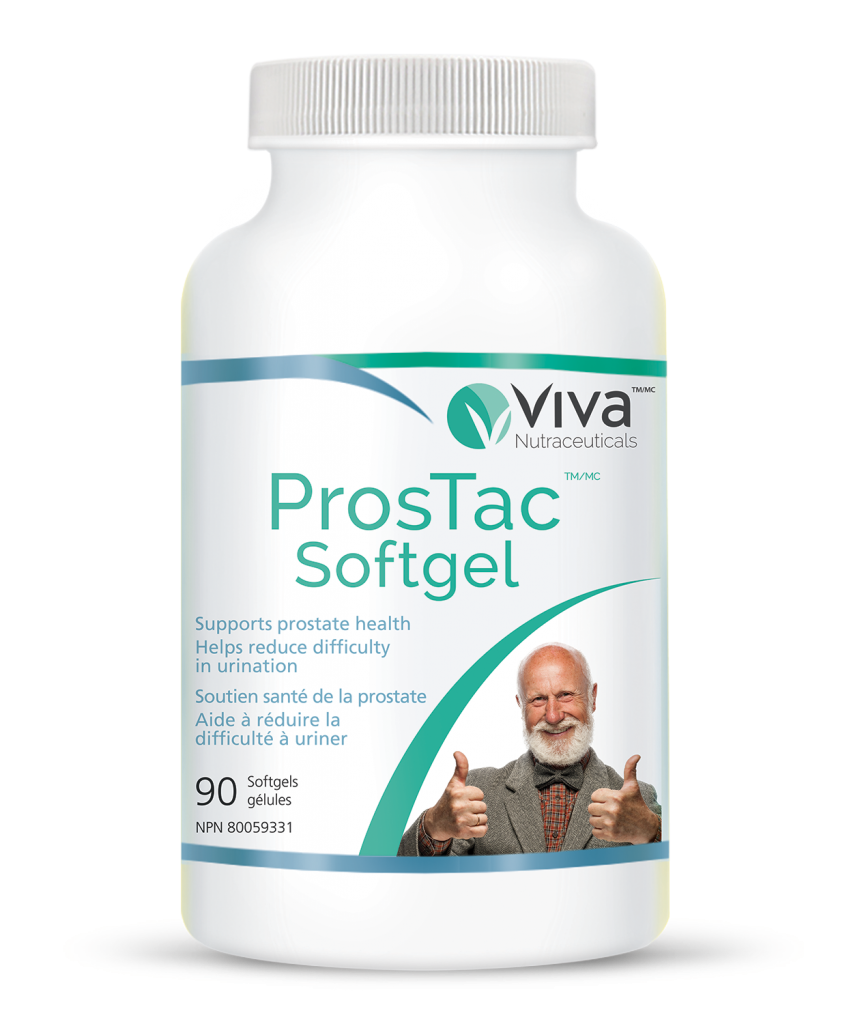 ProsTac's strong formulation specifically targets men's prostate health. Men seldom speak of potential discomfort, but prostate health awareness has increased due to more reported cases every year. Each ingredient used has been carefully selected for its targeted effects to support and maintain men's health.
| Ingredient: | Amount: |
| --- | --- |
| Pumpkin seed oil (Cucurbitapepo, Seed) | 300 mg |
| Saw palmetto (Serenoarepens, Fruit) | 80 mg (90% fatty acids, 10 : 1, QCE 800 mg) |
| Lycopene (psi,psi-Carotene) | 10 mg |
| Dandelion (Taraxacumofficinale, Root) | 30 mg (4 : 1, QCE 120 mg) |
| Nettle (Urticadioica, Root) | 50 mg (5 : 1, QCE 250 mg) |
| Uvaursi (Arctostaphylosuva-ursi, Leaf) | 25 mg (4 : 1, QCE 100 mg) |
| Zinc (Zinc oxide) | 7.88 mg |
Adult males: (For occasional use only). Take 1 softgel 3 times per day, with a meal. Do not take with highly acidic foods (such as citrus fruits and juice) or medications which may acidify urine. Take a few hours before or after any other medications or natural health products
Keep out of reach of children. If symptoms worsen or persist, consult a health care practitioner. Consult a health care practitioner prior to use to exclude a diagnosis of prostate cancer. If you have a gall bladder disease, and/or intestinal obstruction, consult a health care practitioner prior to use. If you have a liver disorder, fever, painful urination (dysuria), spasms, or blood in urine, consult a health care practitioner prior to use. Protect from heat, light, and moisture. Store in a cool, dry place and avoid direct sunlight. Do not use if safety seal is broken.

The information provided on this site is not intended as medical advice. Please consult with a physician or other healthcare professional regarding any medical or health related diagnosis or treatment options. The statements on this website have not been evaluated by the Food and Drug Administration. The products are not intended to diagnose, treat, cure, or prevent any disease.