Viva's Golden Omega-3 Max is a maximum function omega-3 supplement designed with your needs in mind. Everything from the high-potency EPA and DHA content to the enteric coated protection which ensures optimal bio-delivery of these essential molecules into your body, Golden Omega-3 Max is designed with your health in mind. Each softgel delivers 1000mg Omega-3 fatty acids, 1000IU of Vitamin D3, and 10mg ATE of Vitamin E, which strengthen your cardiovascular health, improves joint mobility, and improves your skin. Sourced from deep sea anchovies and mackerel, and further molecular distilled to remove heavy metals and contaminants. Health, in a bottle.
Golden Omega-3 Max is an innovative formulation which aims to deliver EPA & DHA, while also fulfilling your daily vitamin D3 needs. We only use clean, pure fish oil, and pass our product through a stringent quality analysis before it is manufactured.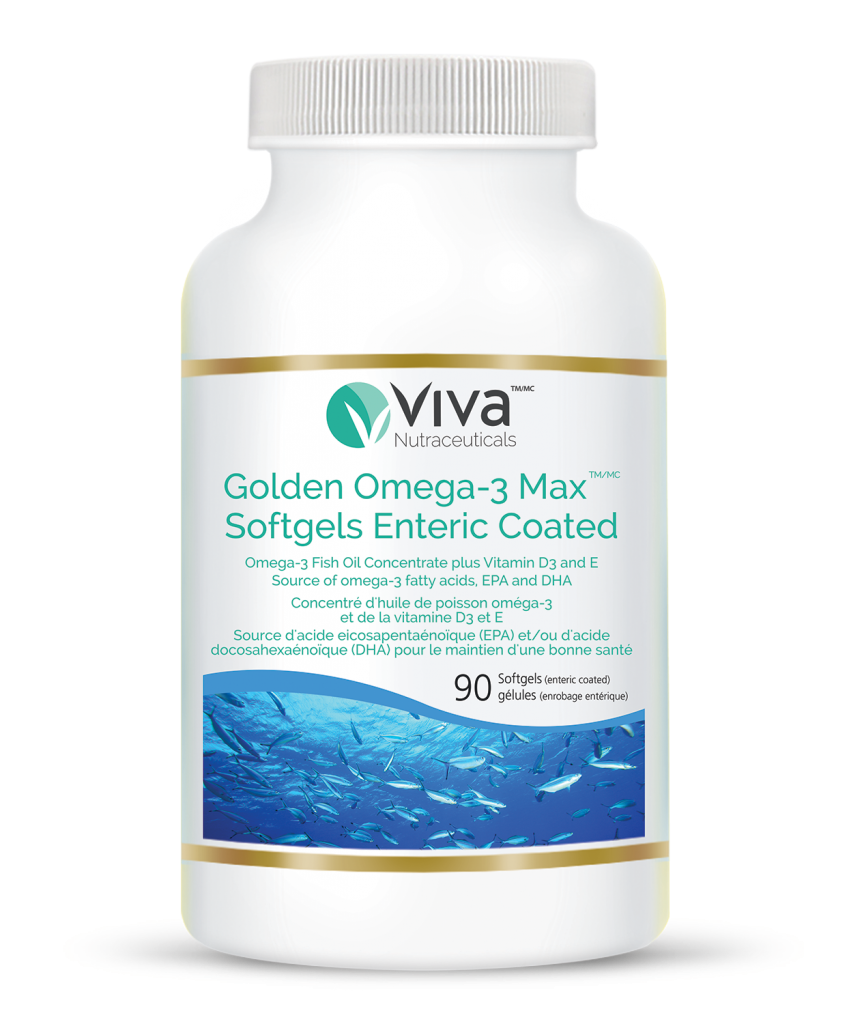 • Lowers blood pressure in hypertensive individuals
• Lowers cholesterol levels
• Protects against cardiovascular diseases such as atherosclerosis myocardial infarction, coronary heart disease, and arrhythmias
• Alleviates symptoms of depression and anxiety
• Alleviates dry eyes
• Protects against the progression of age-related macular degeneration
• Protects against osteoporosis
• Protects against colorectal cancer
| Ingredient: | Amount: |
| --- | --- |
| Fish Oil | 1380 mg (605 mg EPA, 305 mg DHA, 1000 mg Omega 3-Fatty Acids) |
| Vitamin D3 (Cholecalciferol) | 25 mcg (1000 IU) |
| Vitamin E (d-alpha Tocopherol) | 10 mg AT |
Adult: Take 1 softgel daily.
Keep out of reach of children. Consult a health care practitioner if symptoms worsen.

The information provided on this site is not intended as medical advice. Please consult with a physician or other healthcare professional regarding any medical or health related diagnosis or treatment options. The statements on this website have not been evaluated by the Food and Drug Administration. The products are not intended to diagnose, treat, cure, or prevent any disease.