Ultimate Vitamins & Minerals Complex
The ultimate health assistance supplement! From keynote antioxidants to a full and truly diverse range of vitamins and minerals, everything you need for a healthy lifestyle is included in a tablet. Say hello to better metabolism, reduced damage from free radicals, and more enjoyment in your everyday life! Only made with ingredients that provide the best bioavailability, highest potency, and highest integrity, the ultimate choice for a healthy you!
It contains adequate amounts of folic acid, calcium, magnesium, high potency of vitamin B groups, D3 and more. This high potency formulation provides a rich source of vitamins and minerals essential for your health.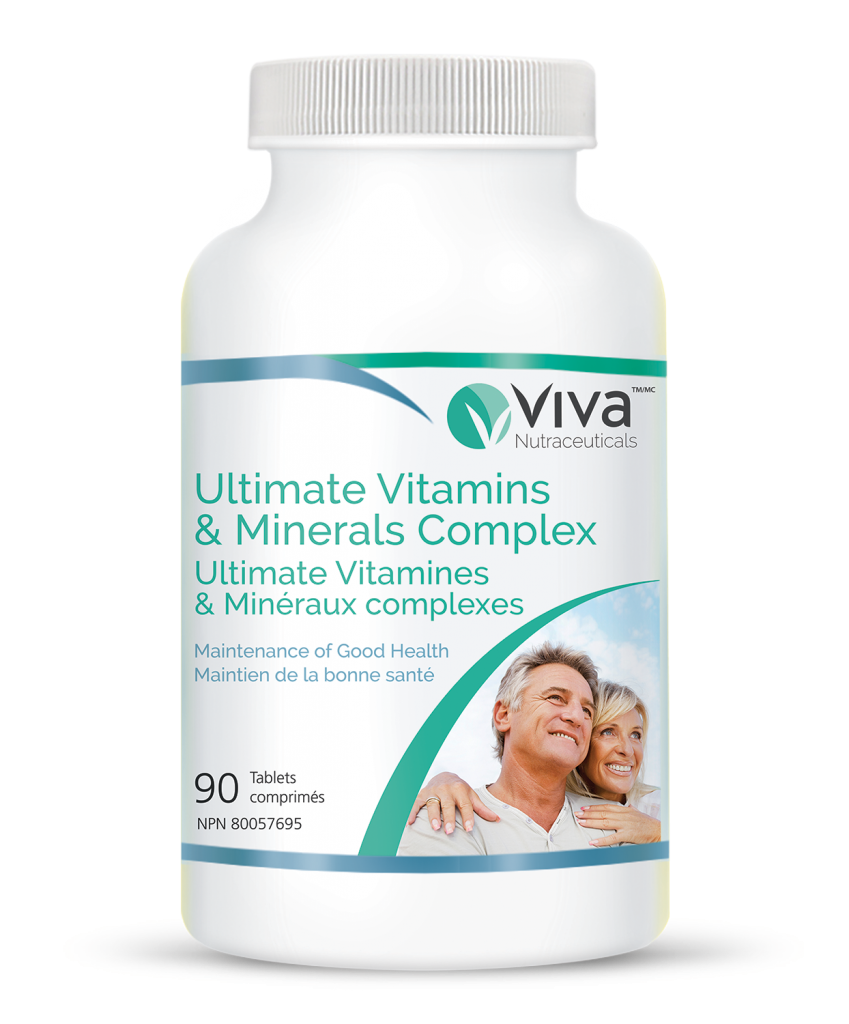 • Helps the body to metabolize carbohydrates, fats and proteins.
• Helps to reduce the risk of neural tube defects when taken daily prior to becoming pregnant and during early pregnancy.
• Helps to form red blood cells and helps in their proper function.
• Helps in tissue formation.
• Helps to produce and repair connective tissue.
• Helps in the development and maintenance of bones, cartilage, teeth, and gums.
• Helps in wound healing.
• An antioxidant for the maintenance of good health.
• Helps in the absorption and use of calcium and phosphorus.
• Helps to provide support for healthy glucose metabolism.
• Helps to maintain proper muscle function.
• Helps to maintain healthy skin.
• Helps to maintain immune function.
• Helps to prevent deficiency in biotin, folate, niacin, pantothenic acid, riboflavin, thiamine, vitamin B6, vitamin B12, and vitamin C.
| Ingredient: | Amount: |
| --- | --- |
| Vitamin B1 (Thiamine Mononitrate) | 81 mg |
| Vitamin B2 (Riboflavin) | 100 mg |
| Vitamin B3 (Niacinamide) | 100 mg |
| Vitamin B6 (Pyridoxal HCl) | 82 mg |
| Vitamin B12 (Cyanocobalmin) | 500 mcg |
| Pantothenic Acid (Vitamin B5, Calcium D-pantothenate) | 137 mg |
| Folic Acid (Folate) | 1000 mcg |
| iotin | 400 mcg |
| Vitamin C (Ascorbic Acid) | 500 mg |
| Vitamin D3 (Vitamin D, Cholecalciferol) | 10 mcg (400 IU) |
| Calcium (Calcium Carbonate) | 65 mg |
| Magnesium (Magnesium Oxide) | 32.5 mg |
| Zinc (Zinc Oxide) | 11 mg |
| Copper (Cupric Sulfate) | 0.9 mg |
| Iron (Ferrous Sulphate) | 8 mg |
| Manganese (Hydrolyzed Vegetable Protein (HVP) Chelate) | 1.5 mg |
| Chromium (Hydrolyzed Vegetable Protein (HVP) Chelate | 25 mcg |
| Selenium (Hydrolyzed Vegetable Protein (HVP) Chelate) | 25 mcg |
| Choline (Choline Bitartrate) | 41 mg |
| Methionine (DL-Methionine) | 100 mg |
| Inositol (Myo-inositol) | 100 mg |
Adults: Take 1 tablet once per day with food a few hours before or after taking other medications.
Keep out of reach of children. There is enough drug in this package to seriously harm a child.Consult a health care practitioner if you have anemia (vitamin B12 deficiency or iron-deficiency), seizure disorders, history of cancer, stomach ulcers, intestinal ulcers, intestinal inflammation (ulcerative colitis or Crohn's disease), thalassemia, Leber's disease, allergy or sensitivity to cobalt or cobalamin, sickle cell disease, hemophila, stomach blockage, kidney disease, high levels of calcium in blood, atherosclerosis, sarcoidosis, histoplasmosis, hyperparathyroidism, lymphoma, tuberculosis, parathyroid gland disorders, sarcoidosis, poor kidney function, alcoholism, diabetes, hemodialysis, HIV/AIDS, bleeding disorders, Wilson's disease, hereditary conditions (such as idiopathic copper toxicosis and childhood cirrhosis), liver disease, chromate/leather contact allergy, behavioral or psychiatric conditions, autoimmune disease, fertility problems (men), skin cancer, hypothyroidism, surgery, acidosis, methylenetetrahydrofolate reductase deficiency, smoking prior to use.

The information provided on this site is not intended as medical advice. Please consult with a physician or other healthcare professional regarding any medical or health related diagnosis or treatment options. The statements on this website have not been evaluated by the Food and Drug Administration. The products are not intended to diagnose, treat, cure, or prevent any disease.